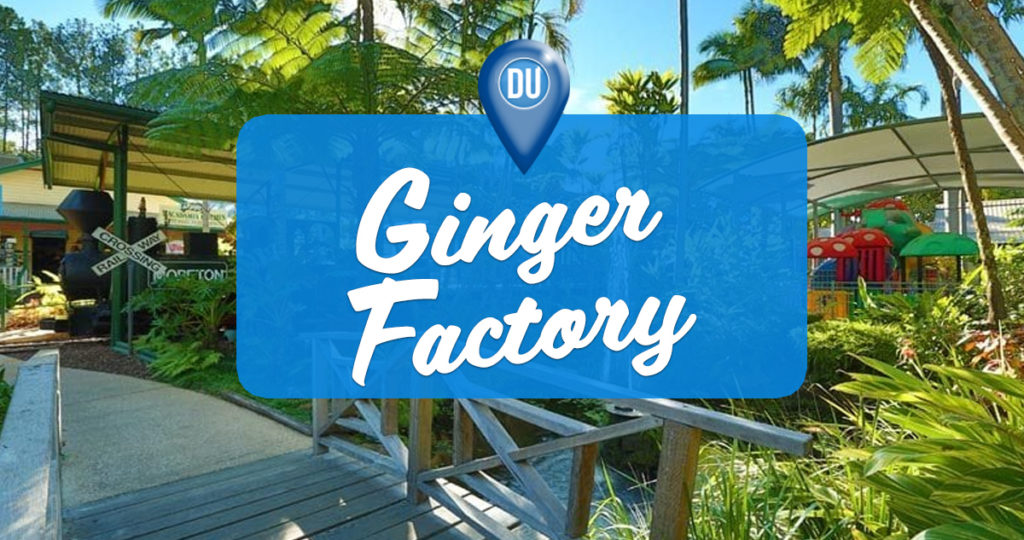 The Ginger Factory Yandina
The Ginger Factory is a one-stop-shop that offers the best in food, entertainment and education. This historic Sunshine Coast landmark has been delighting families for more than 40 years with its boutique shopping, cafe and ice creamery, lush sub-tropical gardens and exciting rides.
Visitors can get around all things ginger by exploring the nine-hectare property and factory on tours and rides, as well as watching exciting demonstrations that provide an in-depth look at the way that the world's largest ginger factory operates.
The on-site cafe boasts daily special offers of ginger-inspired dishes using local Sunshine Coast ingredients, so you never know what delicious surprises await with each visit. Must-try menu items include the famous ginger scones with Buderim Ginger marmalade, handmade ice-cream in a range of delicious flavours churned on-site, plus parfaits lovingly crafted from the aforementioned fresh ice-cream. If you're looking for a creative hands-on food experience, you can even have a crack at making your own gingerbread man!
ADDRESS
50 Pioneer Road, Yandina
HOURS
Open 7 days 9am – 5pm
(Closed Christmas Day)
Experiences and Attractions at the Ginger Factory: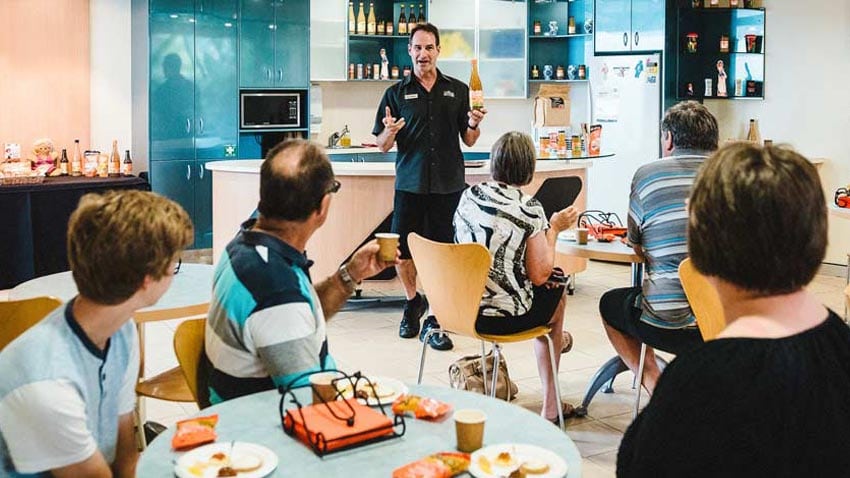 FACTORY TOUR & TASTINGS
Take a guided tour around the Buderim Ginger Factory, located in Yandina on the Sunshine Coast. See how ginger is grown, harvested and turned into a delicious range of Buderim Ginger products. Finish the tour with a tasting and discover why we produce the world's finest ginger!
Tour Times: 10am, 11am, 12pm, 1.30pm, 2.30pm, 3.30pm Daily
Walk-in Price: Child: $12.00 | Adult: $16.00 | Senior: $14.00 | Family: $60.00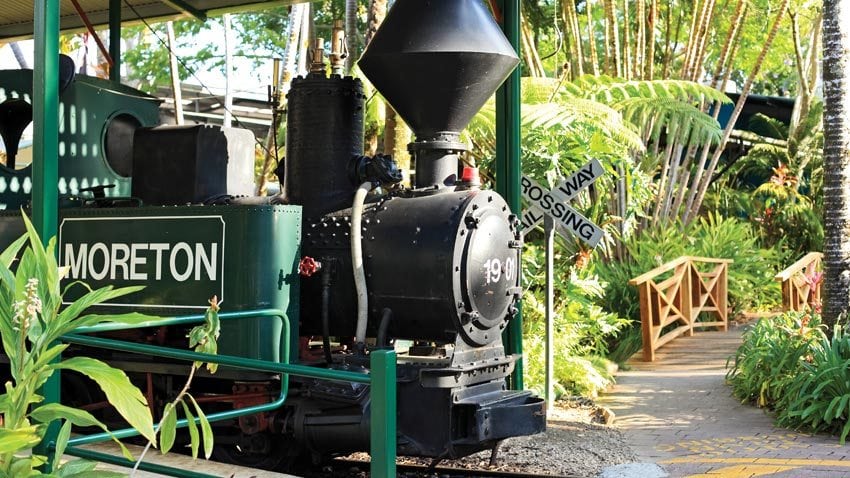 GINGER TRAIN
Take a relaxed tour through 9 hectares of lush sub-tropical gardens on our beloved historic train Moreton. Now over 100 years old, Moreton was a sugar cane train working at the Moreton Sugar Mill in Nambour, and now spends his days taking people on a tour of the Ginger Factory grounds.
Tour Times: 9.30am – 4.30pm Half Hourly Daily
Walk-in price: Child: $9.00 | Adult: $9.00 | Senior: $9.00 | Family: $35.00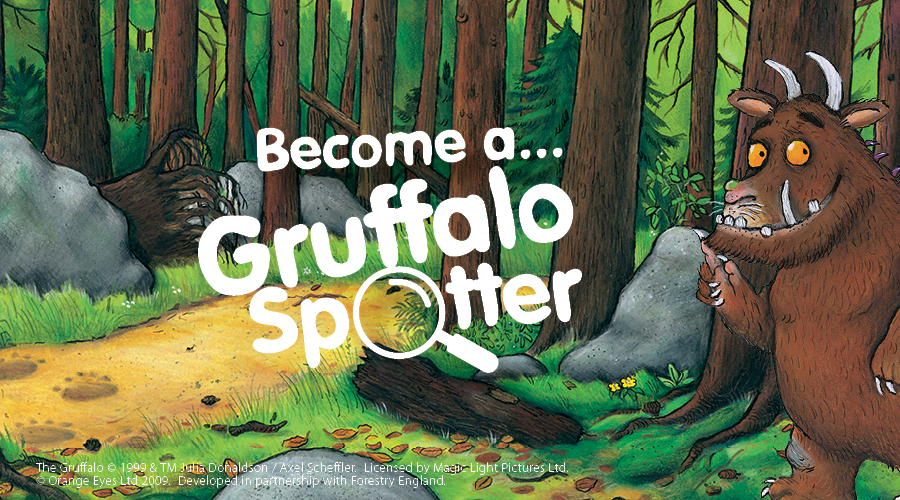 BE A GRUFFALO SPOTTER
Journey through our rainforest and follow the trail in search of the Mouse, Fox, Owl, Snake and of course the hungry Gruffalo with this new augmented reality app. FREE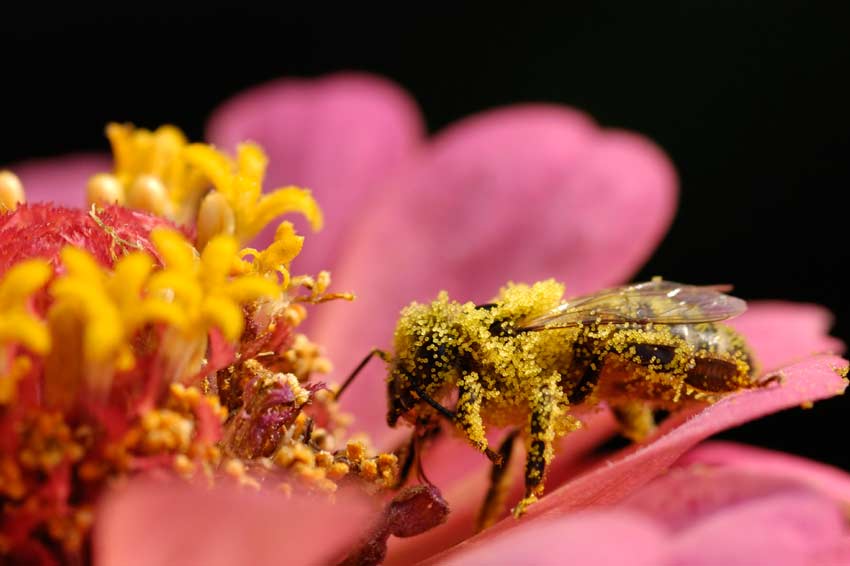 LIVE BEE SHOW & TASTINGS
How do bees make honey and what does a day in the life of a beekeeper look like? Find out more in our Live Bee Show and honey tasting. Led by an experienced beekeeper, you can learn all about life in the hive, see different bee species and taste some of our delicious varieties of honey. The Ginger Factory and our tours were voted as the Top 8 Things to Do in Yandina by Jetstar.
Tour Times: 11am, 12pm, 1.30pm, 2.30pm
Walk-in Price: Child: $12.00 | Adult: $16.00 | Senior: $14.00 | Family: $60.00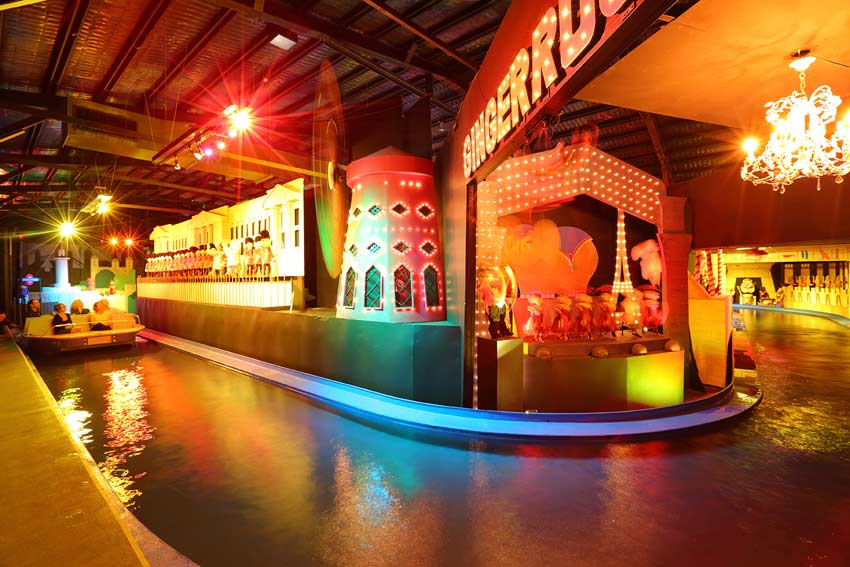 OVERBOARD BOAT RIDE
Join the gingerbread man on an adventure around the world as he escapes the clutches of the hungry chefs. Overboard is a boat ride ideal for the whole family with music, and animated puppetry featuring more than 200 handmade moving puppets.
Tour Times: 9.30am – 4.00pm Continuous Daily
Walk-in Price: Child: $13.00 | Adult: $13.00 | Senior: $13.00 | Family: $50.00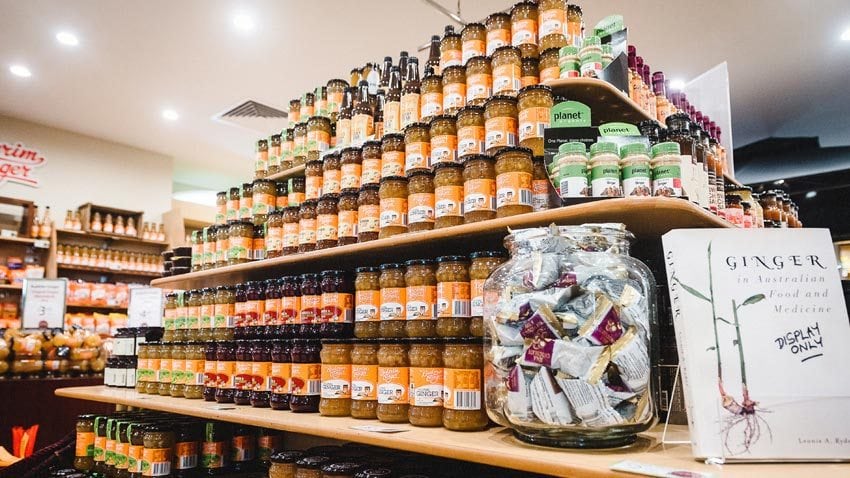 THE GINGER SHOP
The Ginger Shop boasts the largest selection of Buderim Ginger products in the world, from ginger beers and cordial, marmalades and spreads, to sweets and ginger pieces. The Ginger Shop also stocks a tempting selection of gifts, gourmet foods, beauty and skincare products, homewares, designer kitchenware, and a large range of honey products including balms, candles, foods, and lotions. We even have a section for the kids including books, toys, sweets and more. You can visit us in store, or shop online from the comfort of your home and we'll post your purchases out to you.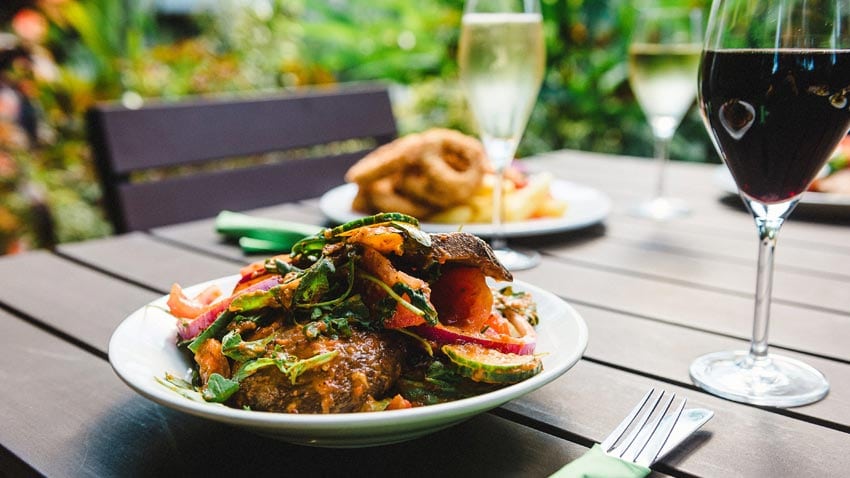 CAFE
Relax, unwind and enjoy the delicious menu at the Ginger Cafe. Let our team of expert chefs tempt you with a superb range of meals showcasing the best of the Sunshine Coast's seasonal produce. The Ginger Cafe is fully licensed.
Open Daily: 9am to 4:30pm | Main Menu: Until 2:30pm | Coffee: All Day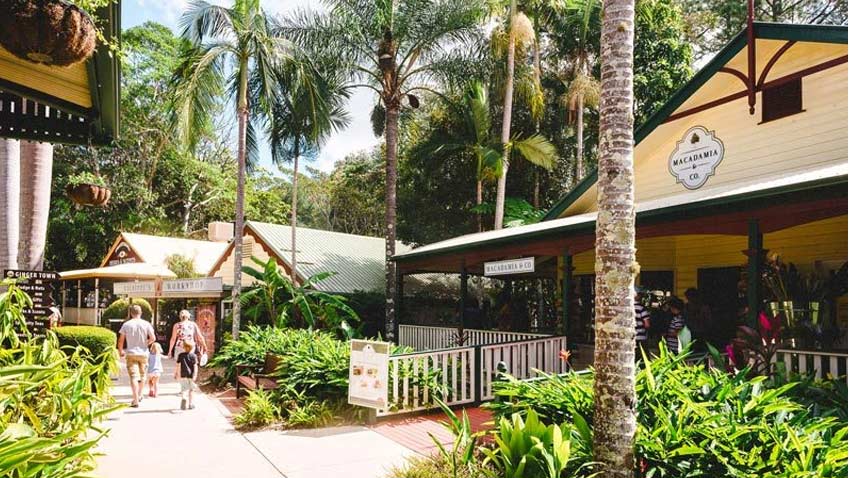 GINGER TOWN
Enjoy boutique shopping at the Ginger Factory. A heritage-style village where you can find Australian or Indigenous souvenirs, handmade toys, sweet treats and a large range of scents and herbal products. Macadamia & Co, Giuseppe's Workshop, Traditional Herbs & Scents & Kokopod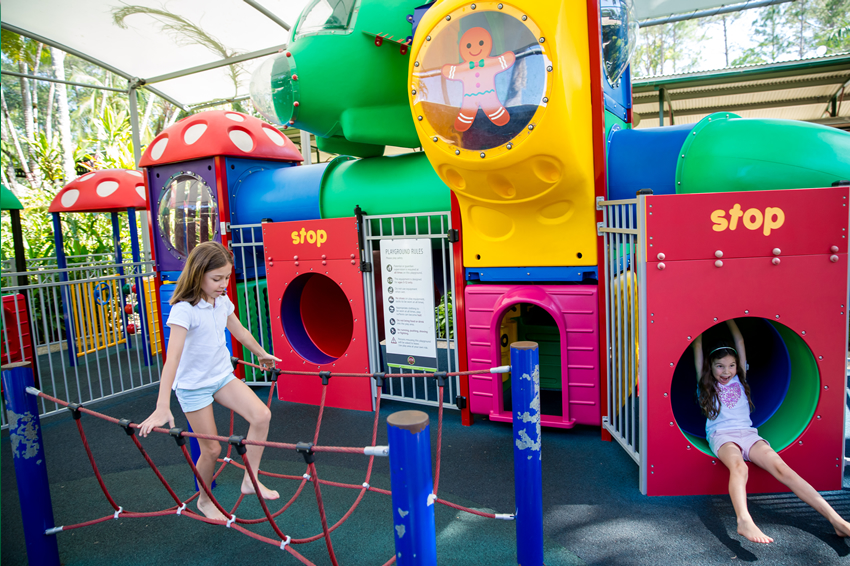 KIDS PLAY AREA
There are plenty of free and fun play spaces at the Ginger Factory. Let the kids enjoy a secure and undercover playground with tunnels, stairs, slides, windows for peaking, and ropes for climbing. There is also a smaller play space designed for toddlers with their very own train to climb, a carriage to crawl through and colourful balls to play with.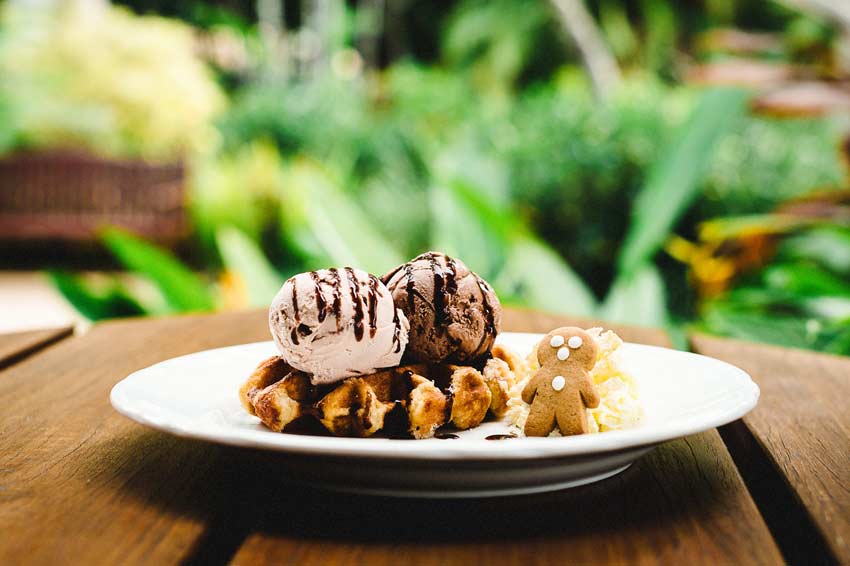 ICE CREAMERY
A fun day out isn't complete without ice cream. Enjoy our handmade ice cream in a range of delicious flavours – or indulge in one of our famous parfaits.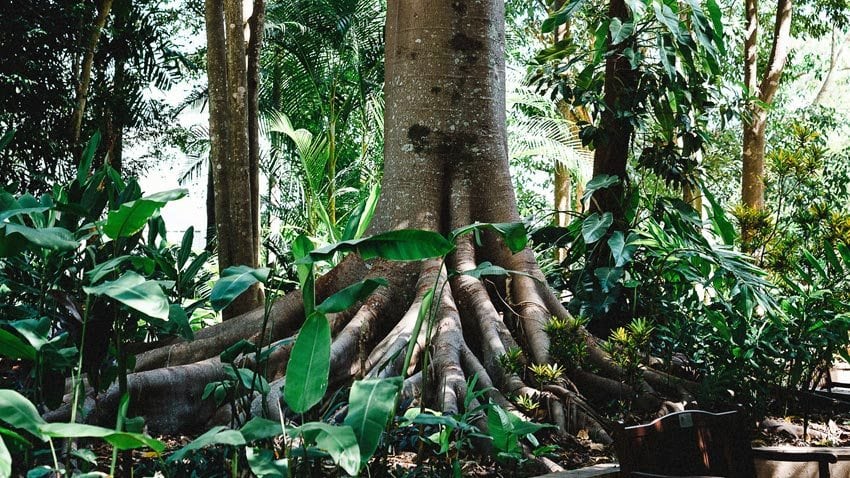 Tropical Gardens
Take a FREE stroll and connect with nature as you explore our tropical gardens. Wander through acres of exotic plant life, beautiful water features, and tranquil pockets to sit and relax.
Other things to do in Yandina