Where are the best pools in Bali?
With so many hotels and resorts in Bali, how do you find the ones with the best pool, the best pool view either hillside, rice field, tropical beach, or garden view. Some pools are the hotels centrepiece others a perfect for lazy days in the sun, undwiding by the pool bar.
Some pools are designed to blend in with the natural landscapes others marvellous feats of designs with mini gardens, tropical islands and man made sand beds.
These pools are on our HOT LIST of the best pools in Bali… We have picked them for their setting, views and size. Add these top pools of Bali to your Bucket list. Some of these pools also cost a pretty penny to stay just for one night… some of us can dream can't we.
Here they are… our BEST POOLS in Bali….
You might also like to check out these best pools in:
---
AYANA Resort Pool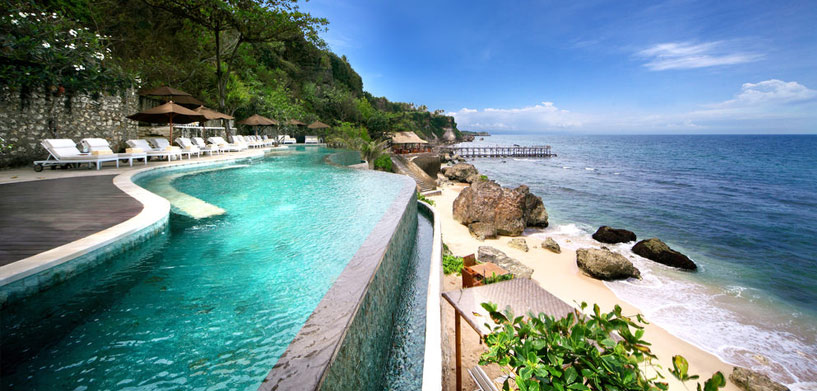 Location: Jimbaran
This whole resort offers magnificent scenes with its vast tropical gardens and high views over the Jimbaran cliff-top. Our tip for making the most of the vista is from your sun lounger beside one of its several magnificent pools. The one on its main grounds is the double-tiered River Pool laid out with river stone, located in Ayana's Cliff Villa section. To soak up some rays, the ground level of the River Pool is surrounded by parasol-shaded purple daybeds; while the upper level lets you rest on the edge and enjoy the ocean views. The winning view is down the cliff face on the resort's private Kisik Beach, just before the stunning Rock Bar. This freeform saltwater Ocean Beach Pool lets you feel even closer to the waves with its infinity edge. Here, there are loungers on the pool deck and a natural sand terrace
W Retreat Pool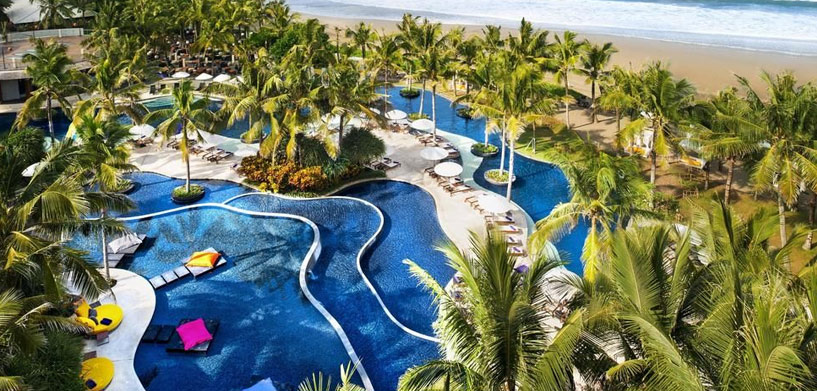 Location: Seminyak
The showpiece of the W Retreat in Bali is WET, the Seminyak resort's large 1,790sqm saltwater pool, with forms inspired by flowing rice paddy fields. It overlooks Seminyak Beach with its spectacular sunsets, which you can enjoy from the comforts of a deckchair or while bobbing in the water. Swimmers will enjoy WET's sunny open spaces, but it is also stunning by night as W's signature fuchsia colours glow around the pool after sunset and colourful all-weather beanbags are spot-lit around the pool's edges. Kids will love the 0.6m splash pool where they can enjoy lots of games and water toys. Lounging about is great with a good read, a laptop or tablet, and there's strong high-speed Wi-Fi
RIMBA Jimbaran Pool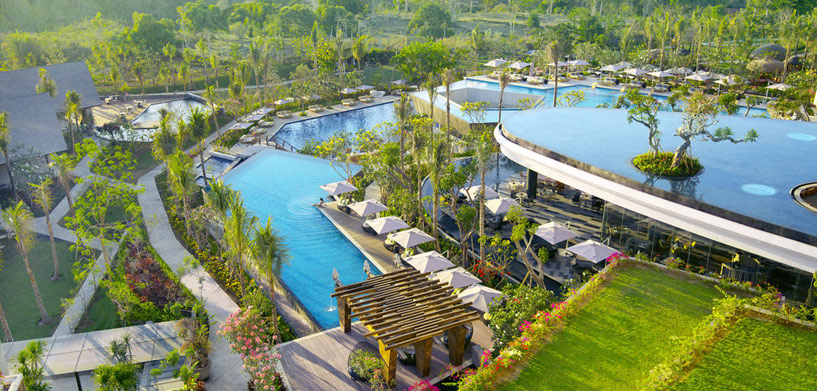 Location: Jimbaran
This resort features a collection of six breathtaking pools, each in a different shade of blue and connected by a network of manmade waterfalls, fountains and a variety of water features. Interestingly, the pools occupy different levels that result in a multi-layered aquatic environment. The best spot to take in the impressive view of the pools is from the lobby, from where they appear to cascade down amongst the lush forest and finely manicured landscapes of the resort. The pools comprise the Upper Pool adjacent to To'ge Restaurant that looks over the surrounding greenery, the more secluded Cabana Pool, the Lower Pool that best suits families, the fun water fountain-filled Three Monkeys Pool, and the Lagoon, which provides Pool Access Room guests with semi-private pool pleasure.
Hanging Gardens of Bali Pool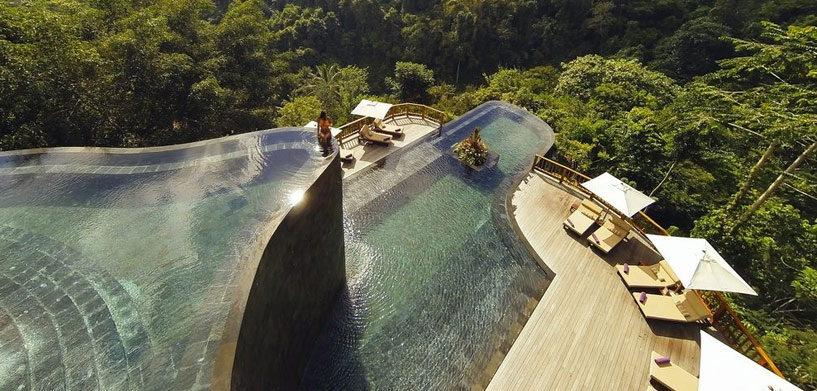 Location: Ubud
This upland resort in Payangan, a verdant mountain village north of Ubud, has spectacular valley views, and the best place to enjoy it is from the resort's two-level horizon-edge pool. This pool was designed to match the natural landscapes of the surrounding green Ayung Valley, and tapers towards the outer edges. Swimming at these heights, it's so peaceful that the only sounds you hear come from Mother Nature, and an ancient temple on the other side of the valley adds an exotic feel to it, especially during its grand ceremonies. By day, enjoy the pool's borderless reflections and wooden decks from the comfort of shaded loungers. By night, you'll have a serene starlit sky with the temple's lights in the distance, perfect for a romantic dip. Getting to this part of the resort is a steep ride down a funicular, as the resort is actually built down the western face of Ayung Valley.
The St. Regis Bali Resort Pool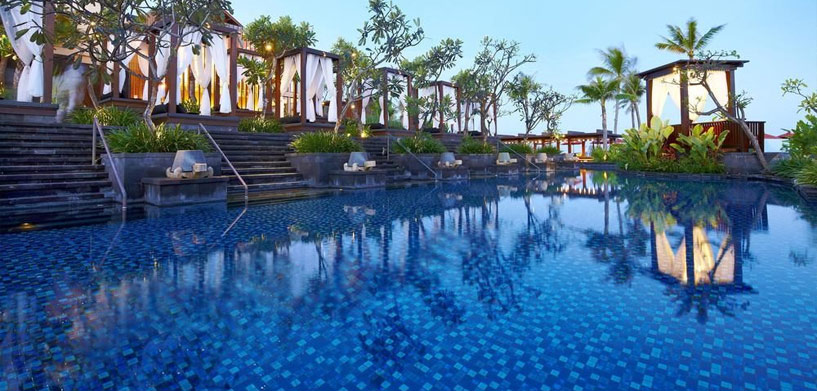 Location: Nusa Dua
The St. Regis has lavish villas with direct access to its expansive 3,668sqm blue-tiled and saltwater lagoon pool. It's a wonderful place to swim at any time of the day and to gather for drinks at its central swim-up bar. Several corners feature wooden decks with uniquely designed tall four-poster cabanas and cushioned daybeds for sun lounging. The pool is surrounded by tropical gardens and palms, giving it a balance of sunny and dappled areas. Most of it is slightly hidden behind foliage, and you won't notice the sheer scale of the pool until you actually get in the water. As a guest at its Lagoon Villas, besides the direct access to this blue lagoon you also have a private garden and your own large private plunge pool.
Conrad Bali Pool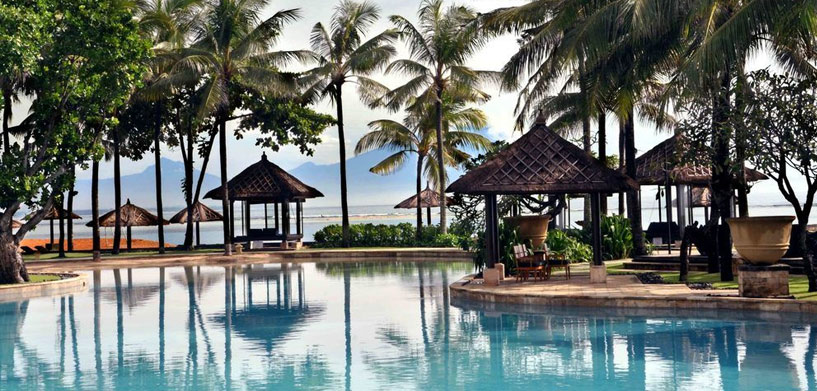 Location: Nusa Dua
Not just another lagoon pool, Conrad Bali's is notably the largest hotel pool in Bali, and we actually had to crosscheck satellite images in comparison with other hotels to justify. Indeed, it is enormous, with over 4,800sqm of swimmable area that is child-safe and open by day and night. It features a sandy bank at one end and Azure, a lagoon pool bar that offers an extensive selection of casual meals, from sandwiches, pasta and pizza to refreshing drinks such as juices, crushed ice and fruit lemonades and cocktails. Conrad Bali's Lagoon Access rooms are so close you can plunge right in from your doorstep. You can try a small adventure and swim from one end of the lagoon to the other, but for serious laps the resort also has another large 33m pool
Sofitel Bali Nusa Dua Pool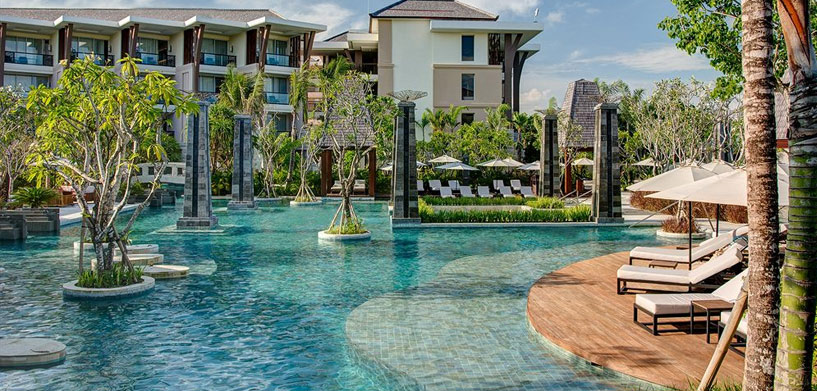 Location: Nusa Dua
This resort has a collection of swimming pools catering to all guest preferences. The main centrepiece pool is a spacious body of water in between the resort's two wings, with towering structures and mini tropical gardens, and is divided by pathways. The pool's perimeter features private cabanas with cushions and side tables with shallow pools where guests may also soak their feet in while enjoying a good read. Near the beachfront and the onsite Nikki Beach Club is a unique circular pool that features various Jacuzzi nooks on its borders. Near the resort's great kids club facility, the little guests have their own pool area to safely wade, slide and splash in, featuring a mini sand bed and fountains to keep them cheerful and busy. Luxury Room Pool Access guests enjoy direct-access to the resort's immense lagoon.
Alila Ubud Pool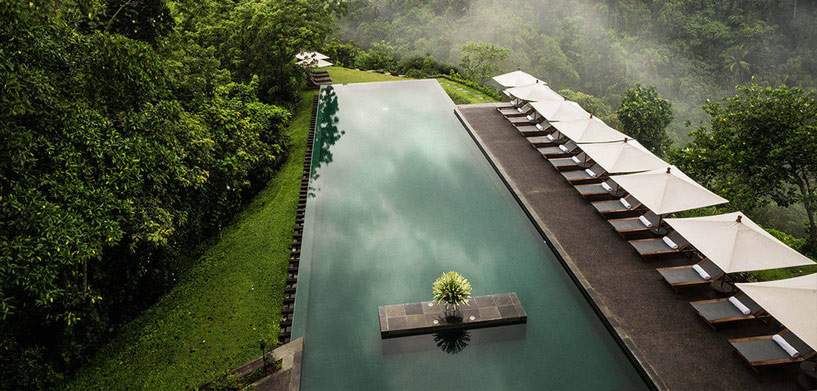 Location: Ubud
Further south down the Ayung River valley in Payangan is Alila Ubud, with its large rectangular infinity pool offering dramatic views over lush jungle. Like most of the resort property, with rooms and villas located above a ravine, this pool looks as if it is hanging over the gorge. However, at the further end is a green lawn with loungers for those who wish to laze about in the fresh mountain air and enjoy the scenic vista. The pool itself is bordered by a stone-tiled sundeck lined with cosy parasol-shaded daybeds. From above, the pool mirrors the sky and forested horizon – a soothing sight for all guests. One of the hotels in Bali that lets you get close to nature, with occasional grey long-tailed macaques sightings in the nearby trees.
Bali Mandira Beach Resort Pool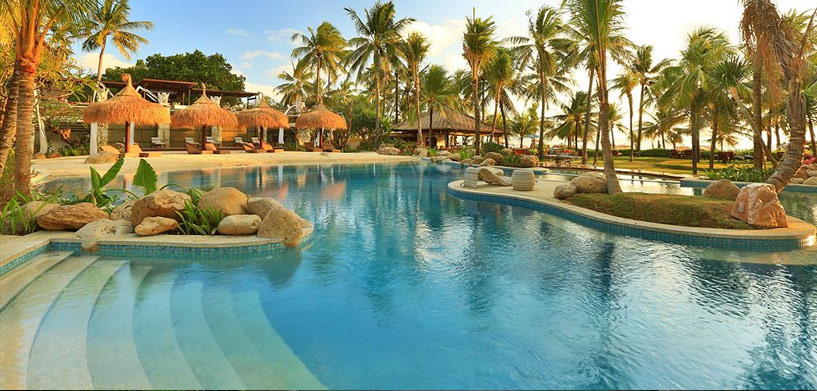 Location: Legian
Bali Mandira's pool may not be immense when compared to the other fine resorts in this list, but the main pool is a wonderful body of water in a freeform border, surrounded by lush tropical gardens and mini garden 'islands' that provide ample shade for leisure goers, and even secluded lounging spots with sundecks. A swim-up bar and wooden sundecks and thatch-roofed cabanas create a relaxing pool scene. The uniquely designed sun loungers are even available in a submerged option at one space, making for enjoyable soaking under the sun. This main pool is well-lit with underwater lamps that create a dramatic scene at night. For those looking for a more refined pool scene, head up to the infinity rooftop pool adjacent Glow Spa and Parasol Restaurant, where sunset dips with cocktails are best enjoyed.
Le Meridien Bali Jimbaran Pool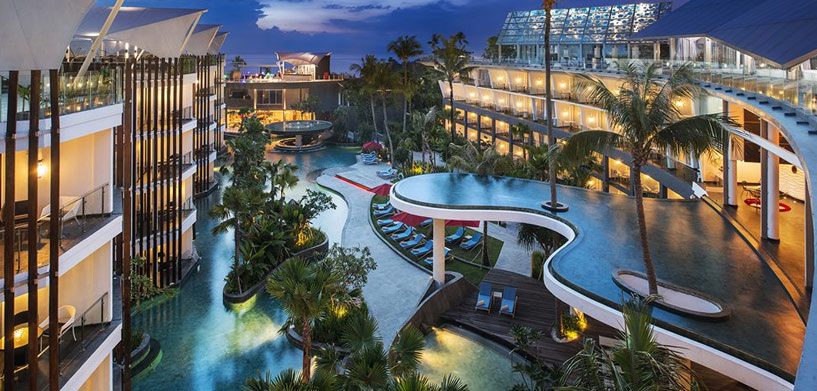 Location: Jimbaran
Behold a magnificent 1,300sqm saltwater lagoon pool at this cool resort in Jimbaran. The pool is surrounded by other water features that seem to seamlessly blend in with this freeform centrepiece feature, including upper level mini pools with two coconut palms protruding through its surface from the ground level below. The main pool merges with the garden 'islands' and resort guests, especially Lagoon Access Room guests, may explore the whole pool for an enjoyable swim. Glide effortlessly on a floating bed, or enjoy some refreshing beverages and snacks at the Pool Bar for a great relaxing time in Jimbaran. Poolside lounging is available on green lawns and wooden sundecks under wide bright red parasols. Areas are connected by mini bridges, creating a unique sense of exploration.
Karma Kandara Villa Pool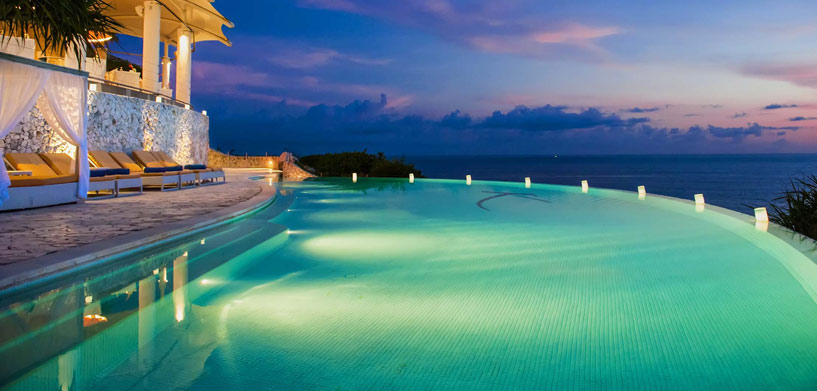 Location: Uluwatu, Bukit Peninsula
Karma Kandara 5 Star resort villas epitomize Bali's exclusive private pool villa experience. Globally renowned as the place to be on 'Billionaire's Row',
Mulia Resort Nusa Dua Pool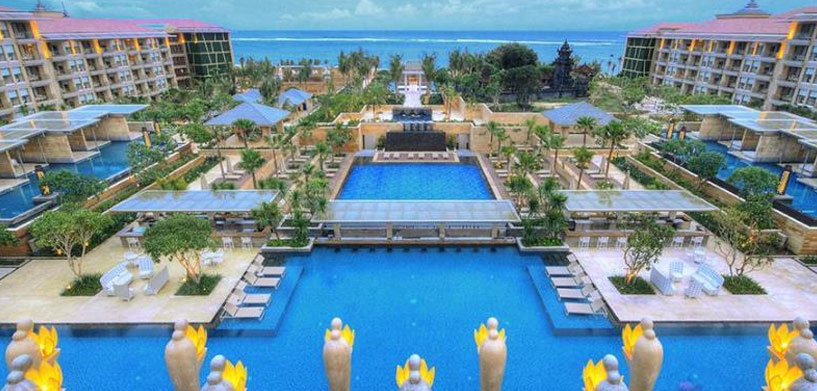 Location: Nusa Dua
Cool off in the four swimming pools, from the ocean front pool with swim-up bar, to the children's splash pool or the private cabana pools with poolside treats
Banyan Tree Ungasan Hotel Pool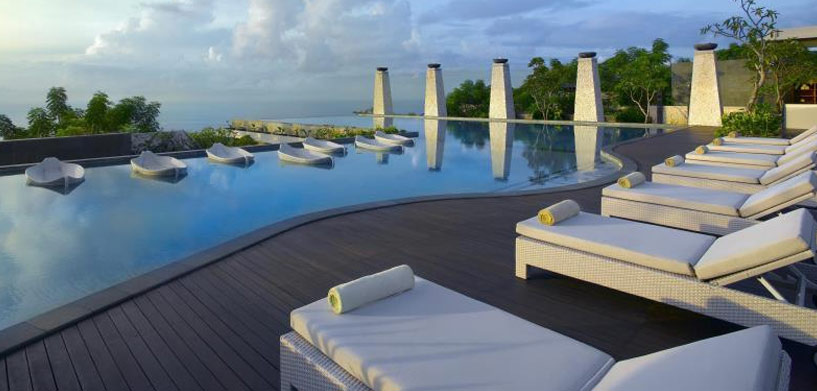 Location: Nusa Dua
Plunge into the infinity pool and swim to the uttermost end, where you can relax with absorbing views of the glorious Indian Ocean. You can also sip on one of Banyan Tree's signature cocktails in the cool quiet of the pool.
Four Seasons Resort, Jimbaran Pool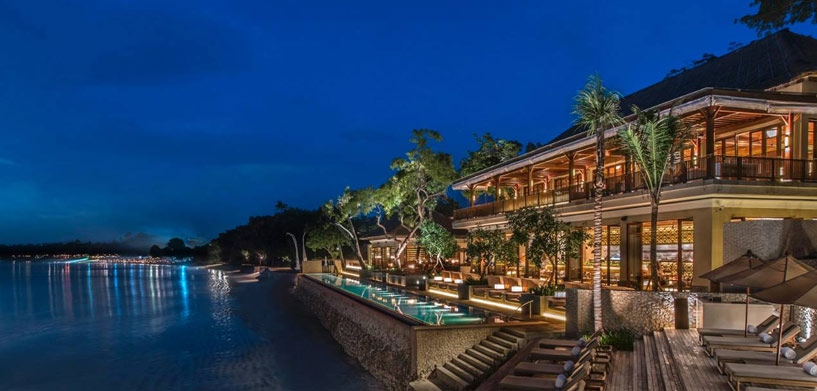 Location: Jimbaran
Beautifully blending with the waters of Jimbaran Bay, the Infinity Pool offers a spacious sun-lazing terrace and quiet ambience – it's the ideal adults' hideaway, complete with complimentary amenities, such as ice cream, fresh fruits, water, cold towels and sunscreen. The adjoining Pool Terrace Café offers further refreshments and snacks.
SUNDARA POOL
Decadent double daybeds follow the line of the Infinity Edge pool perched above, and just steps from, the shoreline. It's easy to spend all day here, soaking up the warm rays, cool vibe, and hand-crafted cocktails; drinking in the views and feasting on local organic food.
Semara Luxury Villa Resort Pool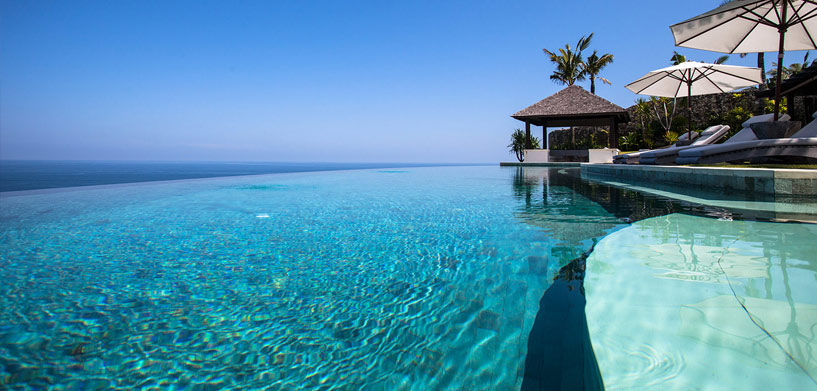 Location: Uluwatu
Located centrally within the resort, adjacent to Selatan Restaurant & Bar, it is our main pool which overlooks the gorge and Indian Ocean below.
The Edge Bali Villa Pool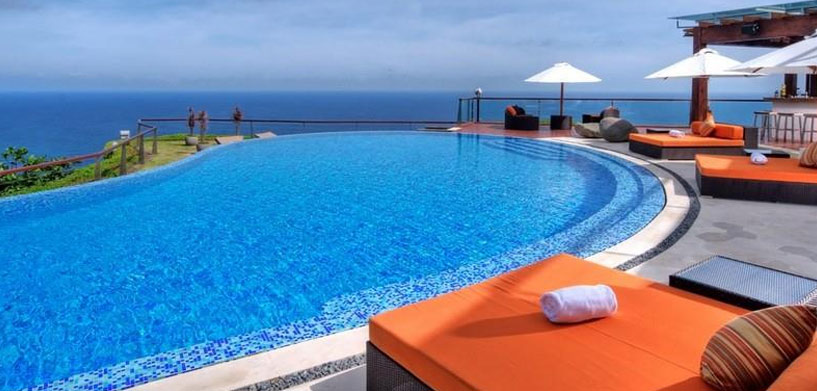 Alila Villas Uluwatu Pool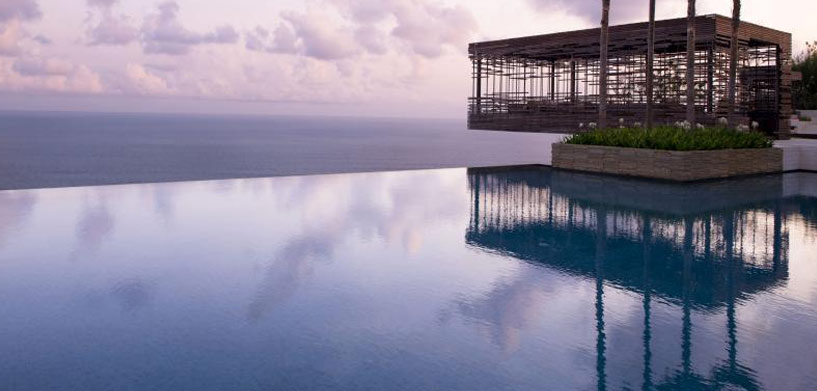 Location: Uluwatu
Poised on an elevated plateau that meets with limestone cliffs sweeping down to the ocean, the view from the Alila Villas Uluwatu is nothing less than picture-perfect. Re-discover the joy of pure relaxation in unparalleled comfort and space in each of our exquisitely designed Bali luxury villas. Surrender yourself to the enchantment of Bali's beauty and serenity in the luxury of flawless perfection.
Potato Head Beach Club Pool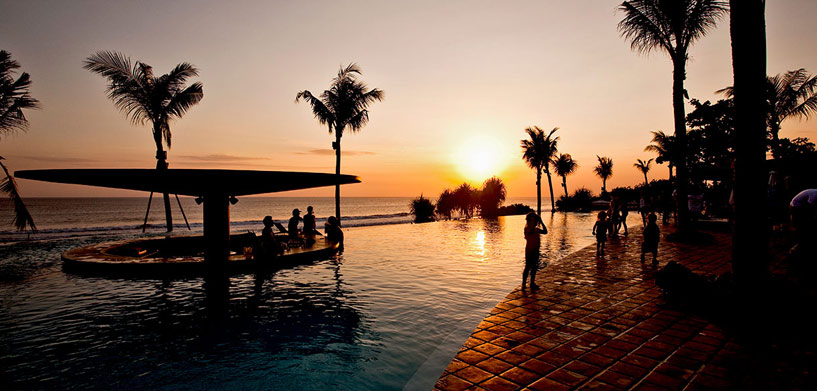 Location: Seminyak
Potato Head is a culturally led hospitality brand that pushes the boundaries of creativity, offering unique cultural experiences that go beyond traditional hospitality brands.
The Seminyak Beach Resort & Spa Pool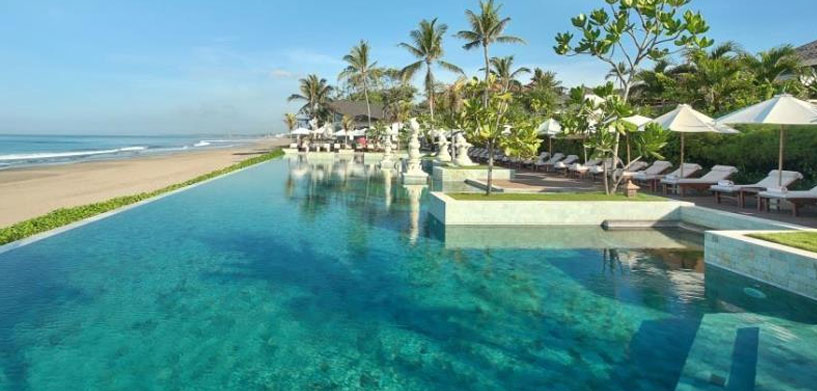 Location: Seminyak
A infinity pool of 10m X 45m, sun beds, sunken bars,
The Legian Bali Hotel Pool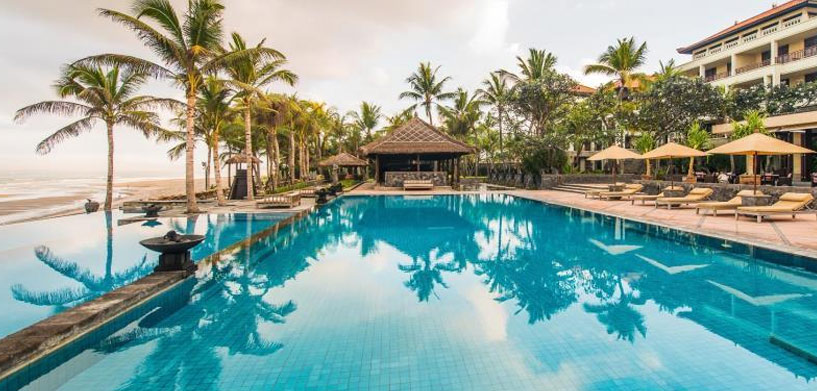 Location: Legian
Against a backdrop of enduring modern architecture and swaying coconut palms, stunning sunsets enhance memories made inside all 67 understated suites and The Beach House perched along the Indian Ocean.
For those seeking the purest privacy, cross the street to eleven intimate pool villas at The Club at The Legian Bali where personal butlers add attentive indulgence to The Legian Bali's exceptional facilities.
The Legian Beach Hotel Pool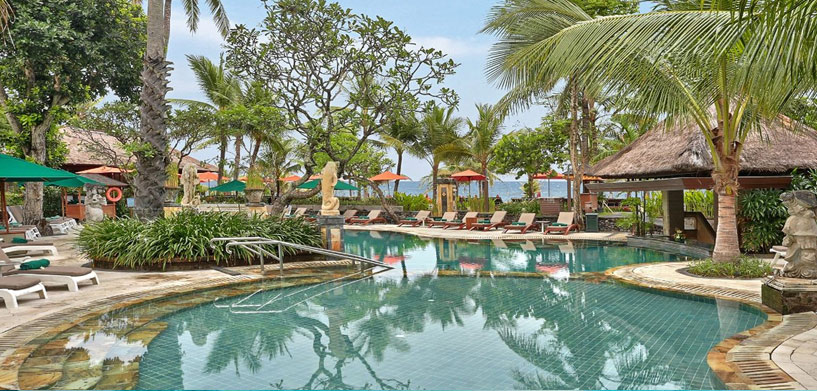 Location: Legian
As a complete resort, there is a diverse offering of cuisine from five restaurants plus four bars, including a swim up pool bar to satisfy every palate from Indonesian, Regional, Asian and Western; from candlelight dinners to fabulous Balinese dance dinner shows and in-room dining.
Komune Resort & Beach Club Pool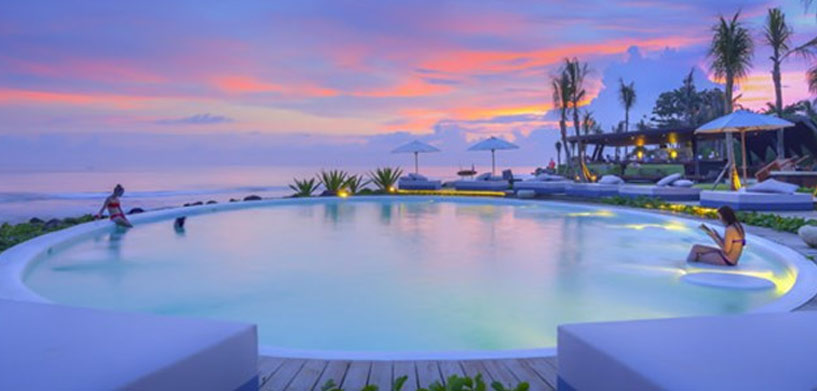 Alila Villas Soori Pool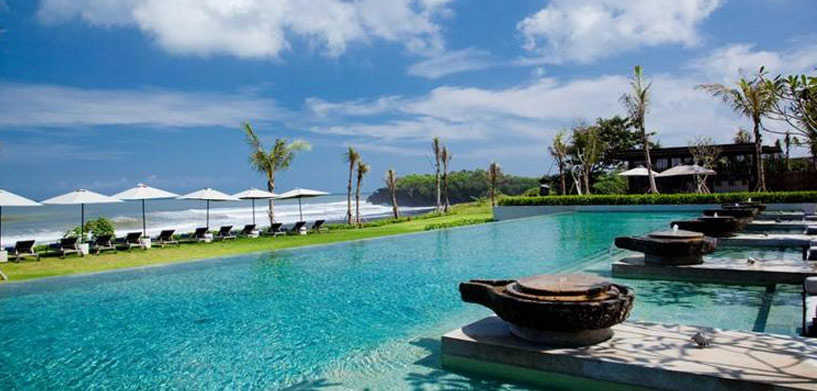 Location: Krambitan
Alila Villas Soori is a private and luxurious retreat to recharge amidst the beauty, warmth and rich culture of Bali. Surrounded by UNESCO's world heritage protected rice fields, guests can experience the ultimate in personalised service, the luxury of space and the boosting elements of the unique volcanic sand which defines this incredible coastline.
Viceroy Bali Luxury Villas Pool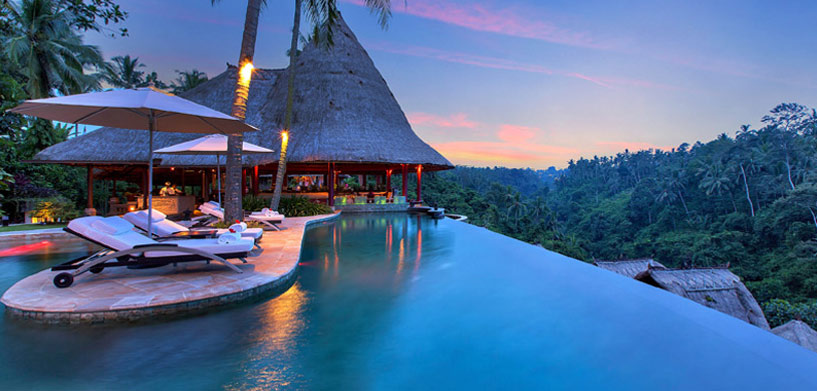 Lv8 Resort Hotel Pool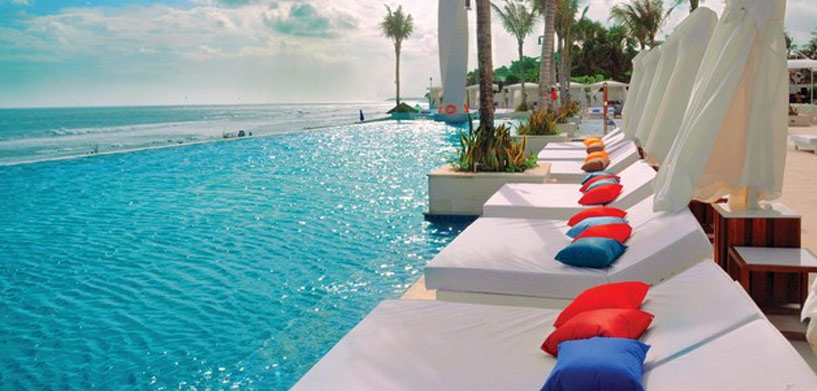 Location: Seminyak
Lv8 offers a beach side infinity pool surrouned by deck chairs and is located right on Seminyak beach. Sit back and relax overlooking the endless ocean or watch the sun set from this perfect location.
Padma Pool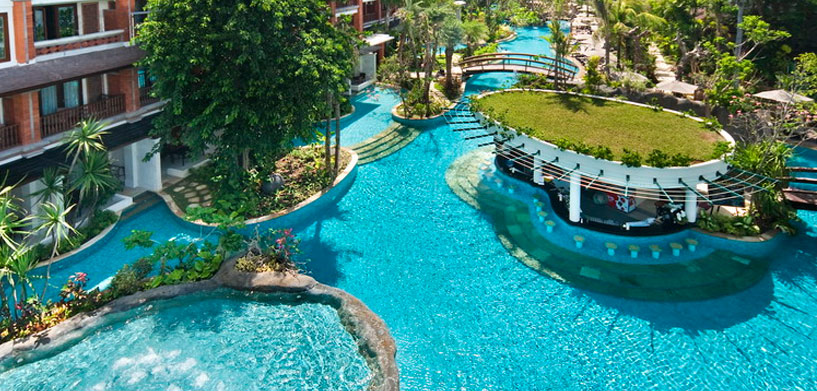 Location: Legian
Olympic-size infinity pool and children pool are hives of activities for guests to spend their day. The family block itself was built with an enormous 40 meters length and 45 centimeters depth kids swimming pool with three water slides, juice bar, gelato stand and kids club with a numerous games and activities like air hockey table, PS4 and Wii.
S.K.A.I. Beach Club is divided into two different areas; indoor dining area and alfresco area that can
accommodate to 200 guests and facilitated with sun lounge chairs, cabanas and infinity
swimming pool facing to the Legian Beach
Hard Rock Cafe Pool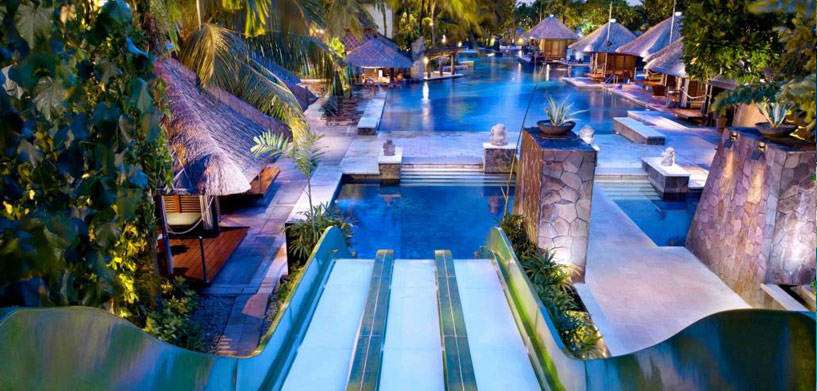 Location: Kuta
Swimming Pool- Lounge lizards love The Pool, the largest free-form swimming pool in Bali. Featuring a unique Sand Island, it is a sunbathing paradise which also serves as a stage for outdoor performances and volleyball matches.
There are 22 poolside cabanas available to provide you a cool, private retreat from the sun. Equipped with tables, chairs and day-beds, the cabanas also allow you to order food and refreshments served from Splash Bistro. You can also enjoy various spa treatments for the ultimate experience in poolside lazing! Full day rent Standard Cabana Rp 400,000net incl Picnic Basket. Full Day Deluxe Cabana Rp 500,000net inlc Picnic Basket
Chill Out Pool – Enjoy the tranquility and luxury feeling of having a swimming pool right outside your ground floor balcony. The "chill out" pool is accessible from the Deluxe Premium Rooms*, a perfect option to hideaway from the hustle and bustle of the crowd.
Other Best Pools in Bali
Best Pools in Legian
Coming Soon

Best Pools in Kuta
Coming Soon