Tirta Empul Temple (meaning 'holy water spring') is a popular holy mountain spring, north of Tampaksiring. Discovered in AD 962, now a national cultural heritage site and is believed to have magical powers.
The famous waterspouts of Tirta Empul Temple bubble up from springs into a large, crystal clear pool and gush into the bathing pool.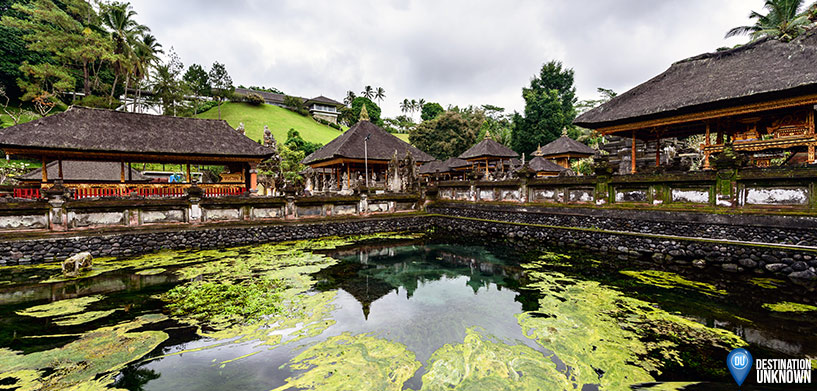 About Tirta Empul Temple
Tirta Empul, meaning 'holy water spring' is actually the name of a water source located within the temple. The spring feeds various purification baths, pools and fish ponds surrounding the outer perimeter, which all flow to the Tukad Pakerisan River. Various sites throughout the region and many other archaeological relics relate to local myths and legends.
The Tirta Empul Temple has three key divisions, namely a front, secondary and inner courtyard. Leading to the entrance are lush gardens and pathways lined with statues and tropical plants.
Inside the 'madya mandala' (central courtyard), pilgrims approach a rectangular purification bath with 13 spouts that line the edge. Entering the clear waste deep mountain water, with hand press together bowing under each of the of the first 11 spouts allowing the water to flow over you. At the 12th and 13th spout used for purification during funeral ceremonies.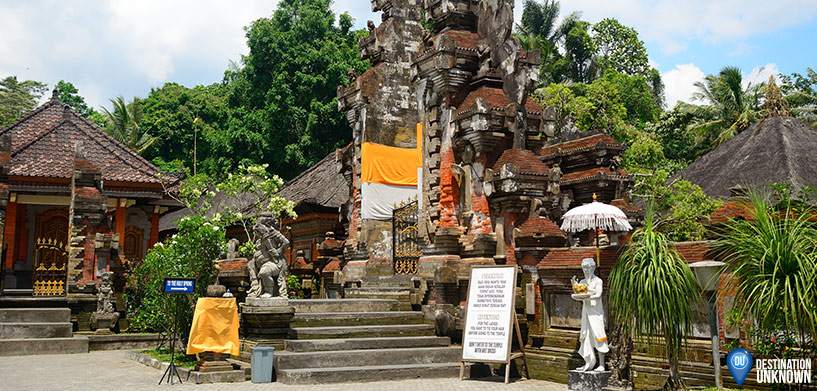 Tirta Empul Temple History
The waters are the main source of Sungai Pakerisan (Pakerisan River), the river that rushes by Gunung Kawi only 1km or so away. Next to the springs, Pura Tirta Empul is one of Bali's most important temples.
The myth behind the curative and purifying spring tells of a Balinese ruler, known by the title Mayadenawa, who is depicted to have defied the influence of Hinduism and denied his subjects religious prayers and practices. The legend goes that this eventually angered the gods, and in a campaign, god Indra sought Mayadenawa's subdual.
Legend has it that it was here that Mayadenawa used his Magical powers to created a poisoned spring from which Indra's exhausted troops drank and succumbed. Indra noticed the fall of his men, and soon thrust his staff into the ground where a holy purifying spring spurted out, to cure the troops and to even bring some of them back to life.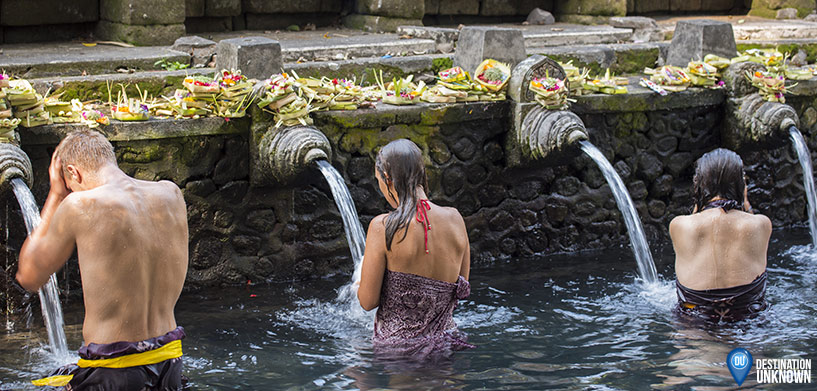 Tirta Empul Temple Tips
Come in the early morning or late afternoon to avoid the tourist buses. You can also use the clean, segregated and free public baths here.
Dress respectfully – Balinese temple visitor dress code is a traditional 'kamen' wrap around the lower body plus a sash around the waist.
Women during their periods are prohibited entry to any temple or sacred site, and may enjoy the sights and attractions in the outer perimeters only.
Purification bathing ritual – is strictly meant for pilgrims and devotees, consult your guide who may ask a temple authority for further details.
Tirta Empul Temple Entry Fee
Entry fee:
Adult: 15,000Rp
Child: 7,500Rp,

Parking:
Cars: 2,000Rp
Opening Hours: 07:00am-6:00pm
Location:
Manukaya village, Tampaksiring, Gianyar, central Bali.
How to get there: