Grandmas Hotel is another Budget Hotel I found in Seminyak while I was staying at Fave Hotel (you walk past Grandmas to get to the beach).
Grandmas is just a short stroll to the beach about 3 min (300m). Its pricing starts around $33 a night for a standard room with air-con, private bathroom (with hot water), bottled water, decent free WiFi in most rooms, Soap and cable TV. It doesn't have all the fancy things, but is pretty good for a budget hotel and the rooms are quite small, a little smaller than Fave Hotel, but bed was super comfortable! My room was on the lower levels at the back of the hotel so it was quite with no road noise.
The Pool is really small, you could kind of call it a giant spa bath and shaded most of the day. If you plan on sitting by the pool all day, this isn't the place for you.
The staff were pleasant but the check in?service was a little slack. The hotel was in low season (pretty much empty) and I still could not check in a at 1 pm and took quite a while to get it sorted. But they were helpful in allow me to store my bag, while I went out for the rest of the day. Service at bar was also slower than most places (not sure if they didn't see me or not) but had to go ask for menu.
Grandmas has have a bar / restaurant, a Spa / Beauty Salon and Massage, I didn't try them as I'm sure you can probably find just as good and cheaper outside the hotel.
Pros
Good Value for Money
300m to beach (3min walk)
Close to Shop's, Bars & Restaurants
Spa / Beauty Salon is on the 5th floor
Cons
There is only one power point in the entire room
Rooms a little small, but ok.
Rooms close to the road can be noisy.
service
Cleanliness
Sleep Quality
Facilities
Hot Shower
Private Bathroom
Air Conditioning
LCD TV
In room Safe
WiFi in room
Towels and Toiletries
Outdoor Pool
Spa
Restaurant
Bar
Room Service
Massage
Laundry service
Elevator
Wifi Internet Speed Test
Room 011:Download Speed:
1.04Mb/s.
Upload Speed:
1.49Mb/s Upload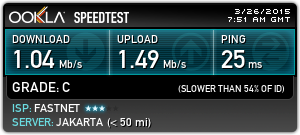 Hotel tips:
The Higher the Room the better the view.
Ask for 2 keys, If you need to charge things while you are out (power turns off without key)
Upper rooms towards the back of the building are quieter
Lower floors are said to have better hot water for showers.
Wifi is better on the 3rd floor
Rooms ending with 01-06 are nosier and close to the street.
Location
FaveHotel Seminyak address:
Jalan Abimanyu (Dhyana Pura)?No. 9A Seminyak, Bali -?Indonesia Phone: +62 361 739 000
www.favehotels.com
Things to do in the area
Other Accommodation in the area
Bars & Clubs in the area
Restaurants in the area