Grandmas Legian Hotel is another Budget Hotel in Legian Bali from just $33 a night.
The Legian Loft Hotel is located about 200m from market stalls and 500m metres from the beach. The staff here were ok and helpful, Its a modern vibe with small rooms like other Grandmas Hotels, I found the Loft hotel nearby had much larger rooms for a similar price. The bed was comfortable and clean, good air-con and a tiny desk for working on.
Grandmas Legian does have a great cheap place to get a massage under the building. If your looking for a cheap, clean and an awesome massage then I would recommend it (You don't have to be a hotel guest).
I have stayed both here at the Loft Legian and Grandmas Legian and I would prefer the Loft Hotel over it, its not as crowded, the internet worked better, the rooms were bigger and it felt a little bit cleaner.
It's in a great location close the beach, close to shops, bars and restaurants. The only disappointing thing is it has no pool and no fridge.
While your here don't forget to sign up to become my Travel Buddy for all sorts of goodies and exclusives.
Pros
ood Central Location
Close to Beach
Close to Shops, Bars and Restaurants
Cons
No Pool
No Fridge
Small rooms
service
Cleanliness
Sleep Quality
Facilities
Free Wifi
Elevator
Hot Shower
Private Bathroom
Cable TV
In Room Safe
Air conditioning
Cafe
Shuttle Bus
Laundry Service
WiFi Speed Test
The WiFi speed at Loft hotel was on par with most hotels in the area.
Room 316 Internet Speed Test: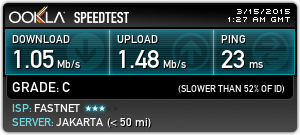 Hotel tips:
Ground Floor can be noisy
Ask for rooms away from the road
Ask from rooms away from lift closer to the back of the hotel.
Get an inside room rather than an outside room
Things to do in the area
Other Accommodation in the area
Bars & Clubs in the area
Restaurants in the area