The following Budget Kuta Hotels have been personally researched one by one by me, so you can plan your holiday easily and find the best value for your buck.
Kuta is best known as a tourist area, its the tourist hub of Bali. Your more likely to hear the Australian accents than Balinese. To me Kuta is very busy, crowded and chaotic, packed with cheap bars, clubs and night life; which makes Kuta the perfect place to party. With clubs open until dawn, and hotel pools become alive. Hence why all the younger party goers come here. Kuta also has plenty of restaurants, shopping and spectacular sunsets.
Kuta Hotel Tips
If you are wanting to make the most of Kuta's Nightlife. Choose a hotel close to the bars and clubs. It will make life easier when getting home in the wee hours of the morning.
You can visit most hotels even some of the expensive ones, taking full advantage of their restaurants, pools, facilities and even the views!
The biggest and most popular bar and club in Kuta is the Sky Garden. Check here to read our Kuta Night life Guide.
Matahari Bungalows is located on Legian Road, the main road thru Kuta. But don't worry you wont be able to hear the road noise.. Read more.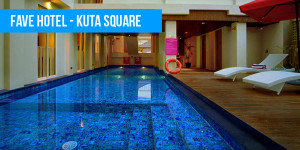 This place is ideally situated within walking distance to Legian Street, Kuta Square Shopping Centre, KFC, McDonalds, Hard Rock Cafe, Kuta Beach and the Beach walk mall… Read more.
Best Western located about 100m from the beach, perfect if you want to spend most of your days lazing around down on the beach…. Read more.
Pop! Hotel is ideally situated in a back ally, within 300m walking distance to the beach…. Read More
If your young and looking for a place to party then this is probably it. Party all night on the roof top or in your room…. Read more
Losari is located in the middle of Shopping, Restaurants and Bars, and about a 10min walk to the beach…. Read more.
If you are looking for a quick exit to and from the airport then try out this hotel, I found this place a little bit to far from everything…. Read more.
If you're after a quick exit to and from the airport, then this place is for you. Not really close to much, but it does have a decent restaurant…. Read more.