The Astagina Villas & Resort is another Budget hotel in Legian Bali from just AU$66 a night.
Located just a block away from the beach down a long driveway, this little gem was a great surprise. The newly built hotel and villas were a great find with a large dining area and bar, alto the food was a little expensive and the server was a little slow, I will give them the benefit of the doubt, because it seemed the staff were still learning their rolls.
The hotel has 2 pools, the main pool with lots of sun beds and pool bar, as well a 2nd pool by the grass perfect for the kids.
The rooms were quite large and modern, with unique wood features and floors, the room was clean with a comfy bed and pillows.?The bathroom was clean and modern with a shower and bath and the usual toiletries including a hair drying and make-up mirror.
In your room with will also find a Bar fridge, flat screen TV, DVD player, Tea Coffee and daily water. As well as a small balcony overlooking the awesome pool.?The hotel also offers one of the fastest internet I found in Bali at 16Mb per second from the free in room Wifi.
Pros
Good Location
Close to Beach
2 Pools
Super Fast WiFi
Cons
Food a little expensive
Services was a little slow
service
Cleanliness
Sleep Quality
Facilities
Slippers
Hot waster
Hairdryer
Toiletries
Bathrobe
Cable TV
Fast WiFi
Inroom Safe
2 Pools
Pool Bar
Restaurant
Bar
Room Service
Elevator
WiFi Speed Test
If you need decent WiFi, then this is the place to be! It's the fastest WiFi I have found in Bali.
In room Test:
Download Speed:
16.72Mb/s.

Upload Speed:
4.72Mb/s Upload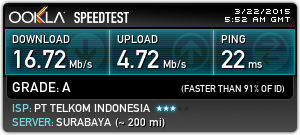 Hotel tips:
1st floor gives you direct access to the pool.
Get a rooms over looking the pool.
Wifi is better towards the back of the hotel
Things to do in the area
Other Accommodation in the area
Bars & Clubs in the area
Restaurants in the area