Best Time to go to Bali
The best time to go really depends on your own personal preferences. There are a few factors that will influence your decision, depending on where you want to go and what you want to do. The following should help you decide when you think the best time to go to Bali will be.
Bali is located 890 km south of the equator so the weather is mostly a tropical warm (Avg 31C or 87.8F) and humid (75%) all year round. With the high 75% humidity, it can often make it feel a lot hotter. Even in the monsoon or wet seasons, in this tropical paradise, it is still likely it will be sunny for a good part of the day.
I believe the best time to go to Bali can be just before and after high season, May / June or September / October. It's still in their dry season, it's less humid and room prices can be ALOT cheaper than during high season. Bali seems to be a lot more relaxed, restaurants are less crowded and with fewer crowds, to me, that's more enjoyable. You will still find some pretty decent priced flights as well.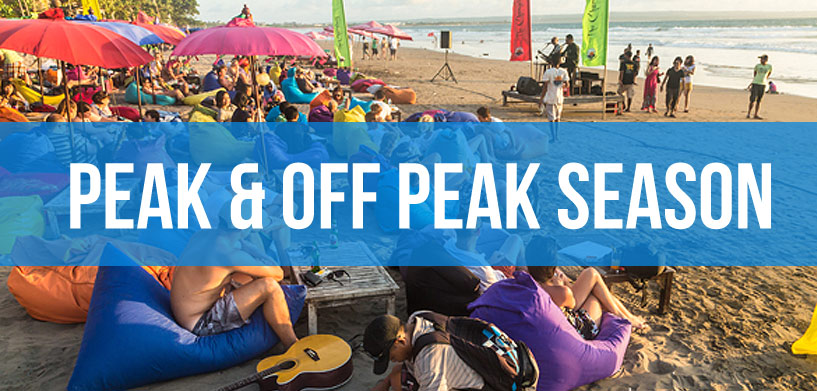 Bali Peak & Off Peak Season
Bali Peak Season – September – December.
Bali is usually busting at the seams with tourists, prices are high for everything from drivers, accommodation to bargaining.
Bali High Season – July and August
Chinese New Year, Easter week. Book accommodation early as it can be hard to find and almost as expensive as peak season.
Low Season – January to June.
Low season is a great time to negotiate deals on accommodations and find cheap hotel packages.
Best time for Surfing in Bali

Surfing in Bali can be good all year round, some beaches and hot spots are better during different weather conditions or busy during peak periods.
April to October – Surfing is at it's best on the West Coast.
November to March – The East Coast offers better surf conditions.
Bali Weather Seasons
Dry Season: Dry season is usually around high season between the months of April and September, with most visiters July and August. During dry season beaches are usually clean, you can still expect some rain.
Wet Season: The Wet and raining season is usually October to March, and Bali is usually a lot quieter, The seas are rougher and the beaches in the south can be full of debris and dirty. Winds are stronger and water currents pick up and it can rain ALOT for a few hours then clears up (mostly rain at night) and rarely for a few days continuously.
Learn more about Bali Weather Seasons here