Bali Travel Tips for 1st Timers
Need some Bali Travel tips? Never been to Bali? Not sure what to expect?
Bali is a great place but if it's your 1st time there; Bali can be pretty crazy, but with these top Bali Travel Tips and advice, your trip will be a lot easier and pleasant.
See Video
You no longer need US$35 per person, They now accept Australian dollars AU$50 on arrival but DO NOT expect change! No matter what the exchange rate is, you won't be getting change from your $50.
Purchase your Duty-free alcohol before you get to Bali. Alcohol is expensive mostly due to their Tax (apart from local beer $1.50 to $3.50 a beer). I would recommend buying your duty-free before leaving and bring it with you. For example, a bottle of Jim Beam can cost around AU$60+ (RP 600,000) Be sure not to go over your Duty-Free limit or 1 Litre tho. When exiting the airport terminal, you may be asked to have your hand luggage searched or x-rayed.
They are usually looking for alcohol over and above your duty free limit of 1 Litre. If you are caught over that limit, they will more than likely confiscate it, ask you to pay the tax or the opportunity to buy it back. If you decide not to buy it back your it could then be destined for the black market. You can always find cheaper alcohol on the 'black market' but you could also run the risk of ethanol poisoning. (Google Bali ethanol poisoning) Because I receive so many questions about alcohol in Bali I created these 2 pages helping answer them: Duty Free Alcohol in Bali and Cost of Alcohol in Bali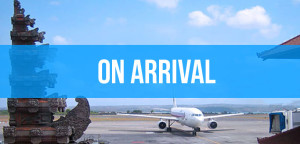 On Arrival:
Get to the Visa counter quickly before the line gets big, this also helps you get to the front of the line to pass through immigration and get your passport stamped.
Bag Porters: With the new airport you don't have to worry too much about the eager Porters when picking up your luggage; These guys use to be quick, and will have your bags in their hands before you know it! That' was fine if you need a hand with your bags, but sometimes they only take them to the door and leave you on your way. Now, with the new airport its a much more pleasant experience and the bag porters and taxi drivers, all wait outside waiting to overcharge you for your taxi ride to your hotel. See my Bali Taxi Prices as a guide not to be ripped off.
If you do need help with your bags and a Taxi Driver or Curtsey bus isn't waiting. Please remember the Bag porter also expect to be paid, and some will be pretty demanding and intimidating especially if your not sure. They will expect you to pay $10 or 10,000Rp DONT do it..
Give them 5,000 to 20,000 Max (50c-$2) They are just trying to rip you off, As they know most of the ATM's in the airport only give you 50,000 or 100,000 notes, and many of the stores outside know this and dont offer change. My suggestion is just to carry your own bags.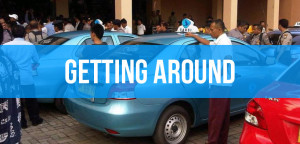 Getting Around Bali
When travelling short distances around Bali the 'Blue bird' taxi's are cheaper. There are many different Taxi's in Bali, but the 1 most trusted Taxi is the 'Blue Bird Group'. Make sure you ask them to put the meter on. Other Taxi drivers often claim their meter is not working and will negotiate a fee which unless you know the price you may find yourself over paying. Worse, when you arrive at your destination, other drivers may make demands for extras like tips and parking costs, and you may feel obliged because you have been taken to where you asked.
I would suggest that if your driver makes excessive demands, politely refuse, take a note of the drivers I.D., and threaten to call the police. That usually clears things up pretty quickly. When hailing a taxi on the street look carefully at the company name and bird logo on the side of the vehicle and the logo on the crown light to ensure that you are taking a taxi from the Blue Bird Group.
Tips for using a taxi in Bali
For a fill list of Bali Taxi Prices and Tips Here
Have plenty of change on you, drivers often claim not to have change, hoping you will allow them to keep the difference.
Always request for the meter to be turned on even in the Blue Bird taxis
Make sure the driver understands where he is going
Read more about Bali Taxi Prices here to give you a better idea of what you should be paying.
Uber in Bali
Does Bali have Uber Drivers? Uber lovers, can now get an Uber in Bali! I personally haven't tested this out, But I do plan to when I'm next in Bali to try it out. Their prices look even cheaper than a cheap taxi up to 1/2 the price.
The Uber website estimates these prices from the Airport.
Kuta – Rp17.000-20.500
Seminyak – Rp33.500-42.000
Leginan – Rp27.500-35.000
Ubud – Rp125.000-160.500
Jimbaran – Rp32.000-41.000
For more info about see our Uber in Bali page
Quick Bali Travel Tips Summary (in the video):
1. Get US$35 Visa Entry or AU$50
2. Bring your Duty Free Spirits and Wine. 1L per person.
3. Get to the visa line quickly.
4. Don't let the bag porters grab your bags.
5. Use the Blue Bird Taxi for short distances, and put the metre on.
6. Long distances, hire a mini bus and driver for the day.
7. Don't buy anything on your 1st day, practice your bargining.
8. Put RP$200,00 away for Airport taxes when you leave.
9. Break your bigger notes up into smaller notes.