Bali Taxi Prices
What are Bali's biggest Tourist Traps & Scams?
Every popular holiday destination in the world has its tourist traps and scams, Bali is no different. Unsuspecting travellers especially 1st timers, seem to always fall for some of these typical Tourist Traps and Scams in Bali.  It might be the dream holiday destination for many, but just like almost every corner of the world where there is opportunity they were be individuals who conduct dishonest behaviour and take advantage of new and unsuspecting visitors to Bali.
How to Avoid being scammed
Read up on common scams in the area before you go. (Your doing that now, good job!)
Always agree on a price before you buy, get in a taxi, eat or drink if its not listed.
Say no, say no lots. Be firm and watch your pockets.
Don't let them bully you or make you feel bad/guilty for not doing/buying something.
Avoid pickpockets in crowds and late at night on the streets, hold your belongings.
Don't provide to much personal info to strangers.
Money Changer Scam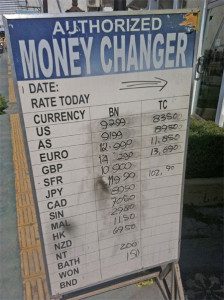 Money changers are all over Bali with little whiteboards listing amazing exchange rates and boasting 'No Commission' on them, some deals too good to be true.
THE SCAM:
The most common Money Changer scam is after counting your money right in front of you note by note, just when they hand you the money the're simultaneously flicking or dropping notes behind the counter, like magic your money disappears before your very eyes.
OR They distract you by looking at the exchange rate or calculator while they slip money from your already counted money.
HOW TO AVOID:
Avoid rates that are usually too good to be true.
Find out the general rate versus the advertised rates, verify whether they apply a commission. When 'no commission' and high rates go together, usually it is not a good sign.
Don't use Dodgy-looking exchange kiosks down narrow gangs/alleys
Count your money again in front of them, and again if you need to, and again as well.
Just because the size says 'Authorized' doesn't mean they are.
Usually once they know they have been caught "scamming' you of your money, they will give you your money back and tell you to go away.
Taxi Scams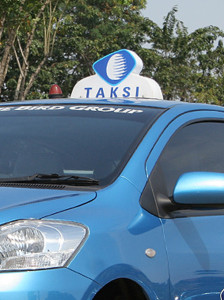 Taxi's in Bali are everywhere and are all competing for your money. While these scams are usually not for much money, It's still annoying and
THE SCAM:
Most scams are pretty basic, no taxi meters, longer routes, no change and extra charges.
Ngurah Rai Taxi cooperative controls a monopoly of the taxis at the airport, which usually charge you more.
Porters outside of the airport will be quick to help carry your bags for a fee of cause.
HOW TO AVOID:
When at the airport – try to organise a shuttle service provided by your hotel.
Avoid Porters unless you really need them, and work out a price of $1-$5 before they help you.
Out side the airport use the BlueBird Taxis
Ask if the meter is working.
Always carry small Rupiah change. So they can't say they don't have change.
Refuse a 'per person' fare.
Be firm and agree upon fares before hopping into your ride.
See our Bali Taxi Prices and tips for more details and tips about Taxi's
Unnecessary Guides
Rogue and unlicensed guides, commissions, and fees for services you didn't ask for.
THE SCAM:
Drivers taking you to 'recommended' shops, or 'more interesting' places (where they get commission)
Taking you to somewhere else because your destination is 'closed' or out of business.
Some temples will have unlicensed guides trying to convince you that you need a guide, or an entry donation.
Buying clothing to cover-up at temples.
HOW TO AVOID:
Be carefull when booking a freelance 'driver + guide'
Temple guides and donations shouldn't cost more than $5 for such services.
You don't need to buy anything if you dont want to.
Yes you do need to cover up at temples out of respect. And you can usually rent a sarong or sash for between between IDR 10,000 to 25,000, ($1-2.50) or included in the ticket price.
HOLY MAN SCAM:
You find a "holy man" a some temples who will call you over, bless you with holy water and say a little prayer, then pull out an offering tray filled with 100,000 notes, asking for a donation. They usually don't speak any English.
At the Pura Besakih Temple it is a fairly common practice and tourists have been known to pay $50 for entrance, sarongs and temple guides.
Timeshare Scam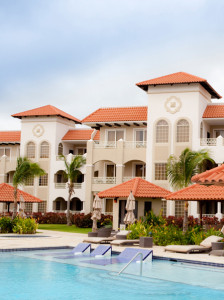 Time share and holiday club scams are everywhere in Bali especially Kuta. The legitimate ones can actually be good idea when sold properly, offering great holidays together with investment opportunities. The bad news is there are not many legit ones around, and you need to watch all the terms and conditions carefully.
THE SCAM:
Usually a friendly person approaches you on the street or beach, asking to take a survey (to get your name and hotel details to call you later)
A lucky 'scratch and win', where you almost always win a T-Shirt of small prize and must go to a certain place with them where they sign you up for a time-share sales pitch.
HOW TO AVOID:
Firmly say no to the 'Scratch and win' tickets
If you feel bad and can't say no to the survey, at least give them fake info: Like the hotel next door with a fake room number. This way they never call you on your holiday. (some everyday, 3 times a day until you say yes) or calling you and telling saying you have 'won a prize'.
Extortion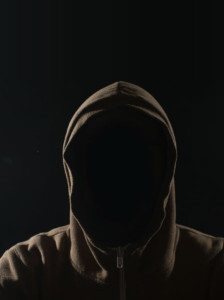 Extortion in Bali can come in many forms, from charging you just for taking photos, being asked to pay up for damaged rental items you never caused, and even bribe money for a monkey!
THE SCAM:
Locals in your photos may ask you for money for taking their photo (even if you didn't realise it)
Hiring a scooter, car, jet ski or bike, then when you return it they charge you for dents and scratches.
Be aware of pickpockets, people ask you for something (vigara, drugs, etc) while coming extremely close, distracting you while someone else's hands are quick to empty your pockets or bag.
HOW TO AVOID:
When Renting a bike or anything that moves, be sure to check its condition, take photos of any scratches and damage (with the renter in the photo, so they can't deny it later)
Never leave your rented scooter parked unattended – some syndicates rob their own with a master key.
Avoid wearing loose items, excessive accessories or jewellery.
Avoid anyone handing you packets of sliced cassavas, peanuts or bananas and forcefully putting them in your hand and gesturing you to feed the monkeys. These morsels aren't for free.
Police & Police Extortion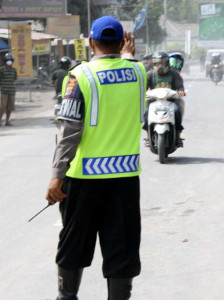 The police in Bali is notorious for pulling over tourists on motorbikes / Scooters to earn a little extra.
THE SCAM:
Police will pull you over for any particular reason, from not wearing a helmet (none of the locals do) to a licence check, even if you have done nothing wrong. They will give you a ticket (up to 200,000 Rupiah) and tell you to come down to the police station or pay it on the spot which will be cheaper.
HOW TO AVOID:
Carry small notes like 50,000 rupiah in your pocket when on your scooter. Use this to "bribe" the police officer when you get pulled over.. 9/10 they will let you go on your way. Don't show them your wallet.
VIDEO:
Watch this video from a Dutch undercover reporter, the cop uses his bribe to buy them both beers and they drink them together in the police booth:

ALSO NOTE:
Unless you have an International Drivers Licence you will not be covered by most travel insurance companies if you have an accident on a scooter.
Travel & Tickets to Nusa Lembongan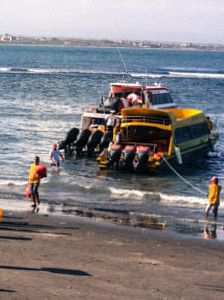 Getting to Nusa Lembogan is on many peoples bucket list while in Bali. But scammers have found a way to rip you off.
THE SCAM:
Selling bogus tickets to reputable boats, which isn't so reputable.
The boat is "full", "technical problems" or "sold out" but they have "friends" or another boat which is available and will cost you alot more.
HOW TO AVOID:
A return ticket Bali-Nusa Lembongan, including ground transfer from your hotel should cost you about USD 30.
Beach Scams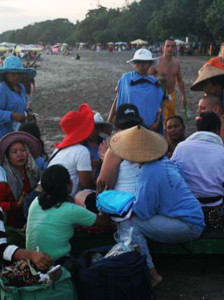 Everyone loves a massage, sitting on the beach in a long chair, maybe even a pedicure or manicure. Make sure your getting a good deal on the beach.
THE SCAM:
The price usually starts out cheap but in the end you could be paying way to much.
Pedicures/Manicure – the price given was for 1 finger, not all. This colour costs more or that pattern costs more etc.
More than 1 person ends up massaging you, doing your nails or selling you stuff and you have to pay them all.
HOW TO AVOID:
Politely say NO, some will make you feel bad. But, once you say yes to one, they all swarm in like seagulls to a hot chip in the sand.
Make sure you set the price before any work is done, make sure its clear that there is no "extra" price.
Reasonable prices for a massage is IDR 25,000 and 100,000, depending on the length of the massage.

Sun chairs – be sure to shop around and try to get the cheapest, some have been known to charge by the hour not the day. A reasonable price for the day is about 50,000.
Bali Scams
With these tips about Bali Tourist Traps and Bali Scams, I hope that you will now be able to spot possible scams before they happen and can enjoy your holiday even more.
The Balinese people are lovely people, and the one usually doing the scamming are not Balinese but are from other parts of Indonesia.